Since being introduced in the early 1990s, exchange-traded funds (ETFs) have gained popularity with investors who desire an alternative to mutual funds. ETFs offer a basket of assets designed to track an index with low management fees and higher price visibility. The investment experts at Miser Wealth Partners take pride in helping our clients effectively navigate all potential risks and rewards of ETFs and ultimately decide whether these investment options make sense for their portfolios.
What is an exchange-traded fund?
An ETF is a type of pooled investment security that operates similarly to a mutual fund. They're called "exchange-traded funds" because they're traded on an exchange just as stocks are. ETFs hold multiple underlying assets rather than just one and can be structured to track anything from the price of an individual commodity to a large and diverse collection of securities. They can also be structured to track specific investment strategies. The price of shares in an ETF will change throughout the day as they are bought and sold on the market. While investors do not own the underlying assets of an ETF, they may be eligible for dividend payments, reinvestments, and other benefits depending on the type of ETF.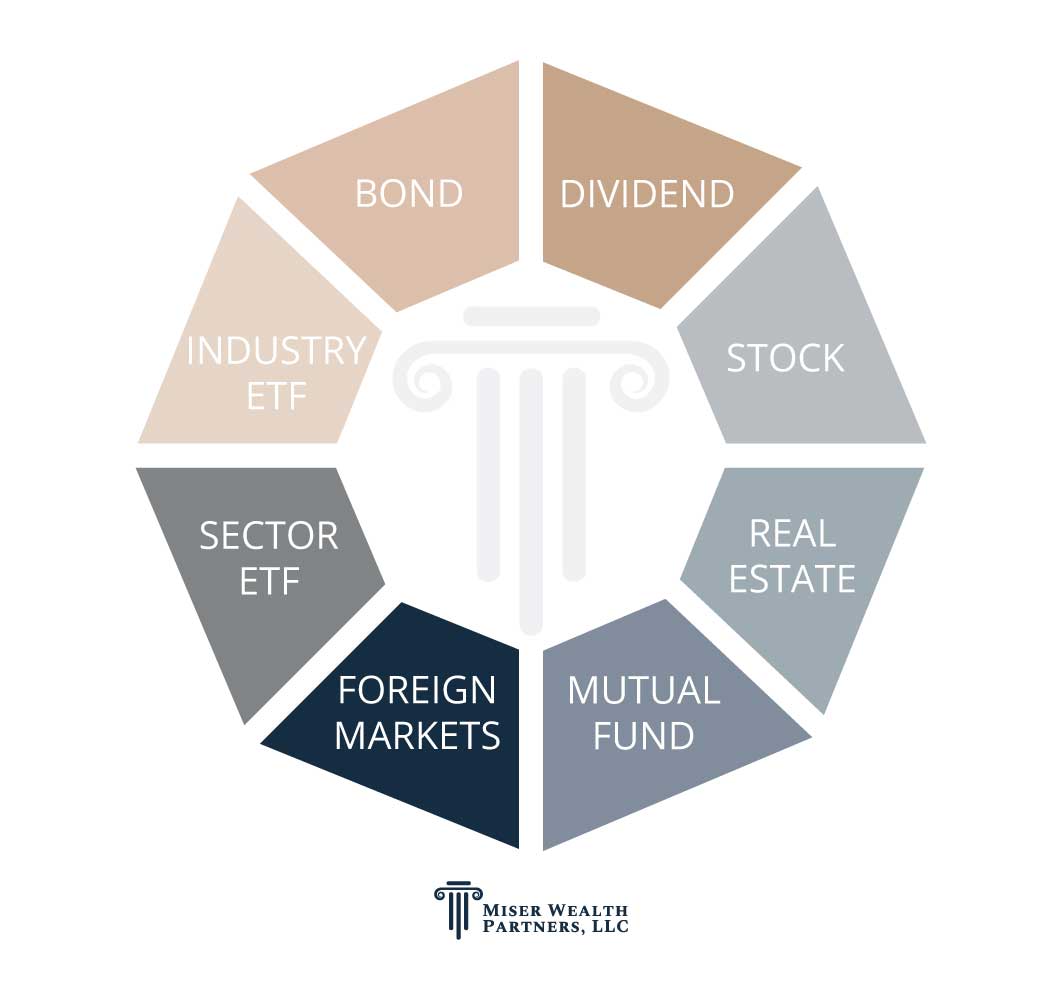 How are ETFs different from mutual funds?
ETFs are traded throughout the day on stock exchanges, while mutual funds are only traded once based on their price at the close of the market. ETFs are also more transparent than mutual funds since their holdings are normally published daily, and they're also more tax efficient by comparison. ETFs will typically track a particular index, sector, commodity, or other asset, but can be purchased or sold on a stock exchange the same way that a regular stock can, unlike mutual finds. Additionally, ETFs tend to be more cost effective and liquid compared to mutual funds.
What are the benefits of an ETF?
ETFs are typically considered to be low-risk investments because they are low-cost and hold a range of stocks or other securities. For many investors, ETFs can represent an ideal type of investment with which to build a diversified portfolio due to multiple assets within an ETF. ETFs tend to have lower expense compared to actively managed funds and offer options to immediately reinvest dividends. One of the main draws of ETFs is that they're more liquid because they can be traded throughout the day and with the flexibility of stocks.
What kind of risks are involved with ETFs?
Despite all the potential benefits ETFs can provide, there are some unique risks that can arise depending on the type of ETF. Just as ETFs live by an index, they can also die by an index in the event of a downward turn. ETFs may also offer less diversification in the sense that some sectors or foreign stocks might limit investors to large-cap stocks due to a narrow group of equities in the market index. That can leave potential growth opportunities out of reach for investors in some situations. Additionally, costs could be higher when comparing ETFs to investing in a specific stock. And while there are dividend-paying ETFs available, the yields may not be as high as owning a high-yielding stock or group of stocks.
The advisors at Miser Wealth Partners will analyze any potential risks and help you determine if an ETF is right for you.
What costs are involved with an ETF?
ETFs have administrative and overhead costs, known as the "expense ratio," which are generally covered by investors and typically represent a small percentage of the investment. Expense ratios have generally been driven lower due to the growing popularity of the ETF industry, making these types of investments among the most affordable options. But there can still be a wide range of expense ratios depending upon the type of ETF and the investment strategy behind it. Miser Wealth Partners can guide you through all facets of expense ratios and help you determine if an ETF is the best route for you.
What's my next step to an exchange-traded fund to diversify my portfolio?
ETFs can represent a cost-effective way to gain exposure to a broad range of securities with a limited budget. If you'd like to learn more about ETFs and find out if they might be a viable investment option for you, we invite you to call us at (865) 281-1616 or click here to schedule a time to talk with us. We'll go over all the ins and outs of this unique investment option and help you make the best decision to align with your financial goals.